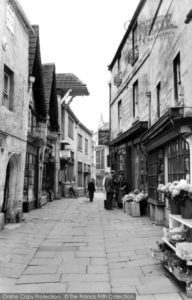 Change is happening in Bradford on Avon, the small town I call home.
When we moved here twenty years ago, there were two butchers, three if you include the one in the old independent supermarket, now a Co-op, at the top of town. There were also two greengrocers, two bakers, a rather dreary cheese shop run by a gossipy old lady who wore a boater and blotted her copybook by declaring a fondness for Russell Watson, and two old-fashioned hardware shops. There were even two "electrical retailers". One of those remains, his window filled with a display of a Roberts radio, a three year-old iron in a sun-faded box and an alluring collection of plugs and lightbulbs. I've given up going there as, on the odd occasion when I've thought that a small, local electrical shop would be able to supply just the thing I needed, the owner has looked so startled to have a customer that he has fallen strangely and awkwardly silent. And when he's gathered himself after the excitement of having someone in the shop he's always done the whole "not much call for those anymore I'm afraid" routine and let me leave empty-handed. I bet his radios still pick up the Home Service.
There used to be two banks and several building societies. Now only one of each remains. There's a health food shop, which has changed hands a few times. It was briefly, rather smugly called "Who Cares?" so naturally we called it "Who Gives A Fuck?", but now it is, surprisingly, Christine's Supermarket. Surprisingly because the word supermarket seems to stand diametrically opposite its ethos and also because it's so tiny that if there are more than two people queuing to buy tofu it feels desperately overcrowded. "Supermarket" implies something else altogether. Give it its due, though, it isn't prissily vegetarian. You can buy fantastic bacon in there, and sausages.
There was a proper Post Office too, complete with one surly assistant whose window was only ever opened with a tut and a sigh, and another who was young and friendly, and whose spirit was being slowly crushed by the doleful presence next to her.
There are still: a small but great book shop, run by our friend and neighbour Gloomy Jim, a newsagent that must be unique in refusing to open on Sundays, an independent off-licence, and a new and brilliant cheese shop run by a Frenchman called Christophe. Both of the butchers have closed, Mr Tripp being a particular loss. Mr Tripp had alopecia – the story goes that he lost all his hair the night he became a widower – and he wore an obvious wig. I had to suffocate any impulse I ever had to buy hare from him, lest it lead to an embarrassing confusion. He had an endearing way of weighing your meat. First onto the scales would go a sheet of paper. He'd drop your chop or sausages onto the paper, then lift his hands away to the sides, almost like a French shrug, as if to demonstrate that no part of him, not even his aura, was anywhere near the scales. If you were happy with the price, he'd wrap the meat, put it in a carrier bag, put the bag on the counter and then turn the handles towards you in a rather grand, sweeping gesture. It was delightful and I miss it.
I once asked for spareribs and he demurred, telling me that they weren't a proper British cut; the supermarket butcher at the top of town "might do that sort of thing."
One of the greengrocers remains. It's tiny and its owner Karen has moved into middle age in step with us. She's no longer a chirpy young girl fresh out of school, but a chirpy, mature woman. I like being on first name terms with the greengrocer. It's how it should be.
Twenty years ago the only chain supermarket in town was on its outskirts but it was only a Budgen's so it didn't really count. Then Sainsbury's moved in and everything changed. I'm not about to launch into the usual diatribe about how a supermarket sucked the life out of our town. It's not their fault entirely. People these days want to shop in the evenings and on Sundays – we don't live in the age of the housewife any more – and unless small shops adapt to that, they're bound to lose out.
Not even our nearest city, Bath, can claim to be well-served by small food shops. In the centre I can only think of one butcher and one second-rate greengrocer. Surely there must be a bakery that isn't simply knocking out pasties for the tourists, but I can't think where it is. It's no wonder everyone piles into the big Waitrose in the centre of town.
The real change in Bradford on Avon has been the sudden arrival of lots of good restaurants. Five years ago we could get excited about Pie Night in our local pub and little else. Now, there are at least nine eateries which would pass the Glossy Photo Test – those photos of a main course where the food sits in a gravity-defying stack, surrounded by puddles of sauce and smeared gobs of vegetable purée. The food is always sharply in focus while the out-of-focus surroundings hint at bare oak, white linen and hand-blown glass. Well, that, that sort of food, is now available in spades in our modestly-sized town.
What's more, on a Saturday night you can't get a table. Forget wandering down to the pub for a pie and a pint. If you haven't booked, you'll be out of luck.
And that's all very well – I enjoy the foodie atmosphere and the feeling that the town is enjoying a new lease of life – but I'd give it all back for Mr Tripp and his wig.