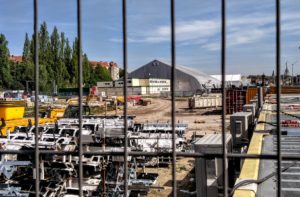 I'm in Brussels for two months, singing in Sweeney Todd for La Monnaie. I was supposed to be singing in Mark Grey's new opera Frankenstein, but renovations at the opera house have overrun (who could possibly have predicted that?) and the elaborate set for Frankenstein wouldn't fit into La Monnaie's temporary home, a semi-rigid marquee on a desolate plot of land called Tours & Taxis (pictured above), so it had to be postponed. They've put the Sondheim on instead and given the cast first dibs on any suitable role. I got Beadle Bamford, a nasty but outwardly jolly villain. Stock in trade you could call it.
We've got off to the usual start. Some would even say stereotypical. I would say typical with full surround-sound stereo and sub-woofered high definition bass.
I was originally called to start on Friday (yesterday), so two weeks ago I booked my economy train ticket to arrive in my digs (booked months ago in order to find somewhere decent) on Thursday. On Monday they tell me I'm not needed now until Saturday.
Oh.
A fat lot of use that is.
I can't change my travel plans without buying a new ticket at my own expense, and it won't make any difference to the cost of my rent.
I travel anyway, thinking that a day to settle in, fill the cupboards with groceries etc will be no bad thing.
Rehearsal schedules go out on a daily basis, emailed the evening before. After my day of stocking up – four grocery bags up eight flights of stairs, thumping heart, fingers like a string of sausages – I'm preparing my head for getting into rehearsal. I go over my lines.
I love dialogue, but how much should I fully memorise it? 80% is what I'm aiming for, simply because I've no way of knowing if the director (a theatre man) has the same ideas about my role as I do, and if I get entrenched in doing it my way and it's not what he wants, it will be an epic struggle trying to undo my homework. This is why straight actors work with their scripts for the first weeks. It's a completely different discipline. This feels like it might be a halfway house, being off-book for the sung numbers and on for the dialogue. Though, given my book is actually a PDF on my tablet, I've set myself up for all kinds of problems. "Sorry, sorry! I tried to turn the page and I've opened YouTube instead…"
So, having prepared myself to start today (Saturday), last night I got the schedule and I'm not called at all. Perhaps tomorrow. Another day of doing stuff but not being quite relaxed about it because my mind is elsewhere, figuring out how to do my role without being able to commit to it.
I'm not blaming anybody in particular. Putting on a show is hard. There are far too many things to worry about than whether the guy doing a middling role is in town too soon. I'm just glad I didn't turn down something else, or find myself missing a child's birthday.
Besides, I still feel guilty for the one time I completely messed up being in town on time. I was booked to do Basilio in Figaro in Amsterdam. It was 2001. There had been lots of to-ings and fro-ings about the dates, and I had in my diary the ones that were originally mentioned, which gave us about ten days for a quick revival. My plan was to drive over to Cologne, where my wife Lucy was ending a two-year contract, spend a day there packing up all her stuff, drive home the next day, then fly to Amsterdam two days after that to start work. I had bags of time.
I took the car on the ferry to Ostend on a beautiful June day and enjoyed a lovely drive east, arriving in Cologne in the early evening. The next morning we were packing up the kitchen when the phone rang. It was my agent. "Where the fuck are you? You're supposed to be rehearsing in Amsterdam. They just called." Lesson learned: always double-check the dates on your contract against the ones you've originally been given.
I had a long, happy relationship with the Netherlands Opera and they were more surprised than upset. I hopped on a train to Amsterdam (though I hadn't packed for a long stay, only a couple of days, and had to leave poor Lucy to pack the car and drive home alone), said sorry and bought a big cake for my colleagues. "That's what you do here when you fuck up", I was told by Joep the jolly company manager.
While I was on my way to Amsterdam, Edo de Waart lost his tenor soloist for some War Requiems with the radio orchestra and I was able to jump in and do those as well as rehearse Figaro. Though, of course, I had no white tie and tails and had to borrow some. I also had to find somewhere to stay. Still, it turned out to be a jammy start to the summer.